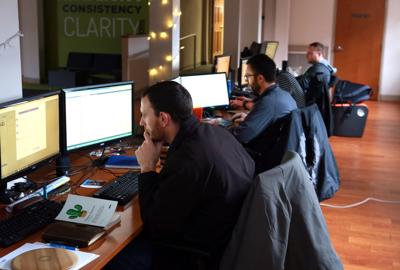 The Roanoke-Blacksburg region has all the makings of a booming technology ecosystem, with a research university, federal grants, young talent, elected officials set on building a future-proof economy.
However, the only thing missing, a powerful new coalition of industry leaders say, is the booming technology ecosystem.
"Community — wake up," seasoned tech executive Doug Juanarena said.
"We have an amazing opportunity sitting at our doorstep, in our community. Why don't we go capitalize on it?"
Juanarena is just one of many prominent voices speaking up in the burgeoning technology scene inclined toward a rosy disposition.
Things are trending in the right direction, the group agrees, with the growth of the Virginia Tech Carilion Research Institute, RAMP business accelerator and a handful of startup home runs.
But there could be more, they say.
The region has made strides in recent decades, Valleys Innovation Council Interim Executive Director Greg Feldmann said. But it still underperforms on key metrics compared to similar communities elsewhere.
Roanoke, Blacksburg and Lynchburg are statewide leaders when it comes to research expenditures and federal innovation grants. But the localities sit at the back of the pack for business formation.
The number of startups in the region is on the decline, new data suggests. There was a net loss of 24,000 highly educated workers who moved away between 2012 and 2017. The region has two companies on the Inc. 5000 list of fastest growing companies, compared ancompared to an average of 13 at similarly-sized benchmark communities.
There could be more startups here, and more investors to help them get started, industry leaders say. There could be more patent activity at Virginia Tech, and spinouts licensing that technology. There could be more skilled graduates choosing to stay in the area, and large companies to employ them.
"All of this says the same thing," Juanarena said. "We're just underachieving. The amount of intellectual capital we have here, we just underachieve at the economic back end of it."
The Valleys Innovation Council, or VIC, launched one year ago with a mission of addressing what it sees as unmet potential for the local high-tech industry.
It's not the first of its kind, as other regional organizations have started up and fizzled out, most recently the Roanoke-Blacksburg Innovation Network.
But the recently formed group is led by an influential board of directors with representatives from Virginia Tech, Carilion, community colleges, venture capitalists and company executives.
The roster includes names such as former state Del. William Fralin, Virginia Tech Carilion Research Institute Executive Director Michael Friedlander, Meridium founder Bonz Hart and Virginia Tech Vice President for Research and Innovation Theresa Mayer.
The group is closely tied to the governor's GO Virginia initiative and the state-sponsored TEConomy study, which recently released the results of a six-month analysis of Virginia's technology industry.
In Region 2, which includes Lynchburg, Roanoke and Blacksburg, the TEConomy researchers found that new business formation followed the state-wide trends until 2012, but then it broke off and began declining.
*Proportion of startups relative to all active firms
"Startups, patent innovation and talent attraction is lagging in the region despite a strong and growing university research base and increased activities to promote ideation in the region," the report finds.
The region tops both state and national averages for academic research expenditures, with $672 in per capita spending. That compares to $172 average for Virginia and $222 for the U.S., according to TEConomy data.
But Region 2 boasts2 only boasts a 5 percent rate of new business formation, compared to 7 percent for Virginia and 8 percent for the U.S.
"We've had some success stories," Roanoke-Blacksburg Technology Council CEO Robert McAden said. "But compared to the amount of IP [intellectual property] that's being generated, we definitely fall behind in that commercialization."
Mitch Horowitz, the managing director for Maryland-based TEConomy Partners, said his research shows the region is undergoing a significant economic transformation, and the growing research expenditures has the potential to keep the momentum going.
"Entrepreneurship is proving to be critical in the transition of this region. And more is needed," Horowitz said. "Research alone is not going to give you innovation. But without research, you're missing a key engine for it. And you have that R&D base that allows you to really think about significant developments."
Among the TEConomy report's recommendations was the creation of a "quarterback" to organize efforts and fill the gaps that the researchers identified.
VIC's leaders hope their new organization can take on that role.
"It's a pick and shovel effort," said Feldmann, a longtime startup guru who's leading VIC on an interim basis. "It takes every day somebody getting up and working on it and building off these assets in order to get to a longer term goal of creating a few thousand jobs."
The group has spent the last year working quietly behind the scenes. The first order of business has been to benchmark where the region's ecosystem stands today.
Serial entrepreneur Sam English has taken the lead on the startup financing side of things, pulling together data on angel and venture capital investors.
Other VIC leaders, meanwhile, have tried to drill down into the area's strengths. They have worked to identify which industries are already here, what they're doing and how they've grown.
"How many people come to work every day in autonomous systems?" Juanarena offered as one example of what the group has asked. "It's more than anybody imagines right now. I think people are going to be surprised."
The VIC's efforts are built around a realistic assessment of the state of affairs. Things are moving in the right direction, the group says, but it's too early to celebrate.
"Are we at a tipping point? I think we're closer to it than we ever have been," Feldman said. "I think we have overcome a lot in the last 20 years about understanding why we need to work regionally. … Together we're much stronger than we are apart. I think we're over the hump on that, which is a good evolution."
["source=roanoke"]