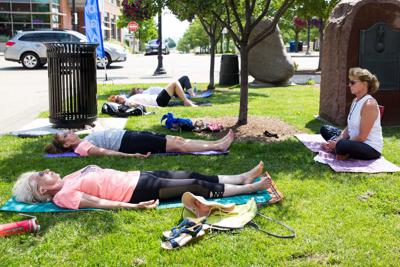 PEER-TO-PEER: NAMI Racine County is offering Peer-to-Peer, an eight-session recovery-focused course for adults with mental health conditions. The course is designed to encourage growth, healing and recovery among participants. They will learn include how to create a personalized relapse prevention plan, interact with health care providers, develop confidence for making decisions and reducing stress, understand the impacts of symptoms on their life and access resources to maintain their journey toward recovery. 2-4 p.m. Mondays, Sept. 9-Oct. 28. Free. Registration ends Aug. 26. Send email to Nicole Smart, [email protected], or call 262-637-0582.
Classes are held at Aurora Wellness Center, 300 McCanna Parkway, Burlington. To register for a class, go to www.aurora.org/events.
INFANT CPR & SAFETY FOR FAMILY AND FRIENDS: This non-certification course covers safe sleep, SIDS reduction strategies, infant and child safety tips, prevention of accidents and/or injuries, safety tips to prevent child drowning and how to perform CPR. 6-7:30 p.m. Wednesday, Aug. 7. Fee: $20.
ART THERAPY CANCER SUPPORT OPEN STUDIO: Open Studio is an art group designed to aid group members in self-expression, relaxation and personal growth. It is open to cancer patients, survivors and companions. Each session is facilitated by a credentialed art therapist and will include a featured project. 3-5 p.m. Mondays through Aug. 26.
POP UP WELLNESS CENTER ON THE SQUARE: Visitors will have the opportunity to try services like massage, wellness coaching, reiki, acupressure, ayurveda, essential oils, yoga, personal fitness and social wellness. Also featuring wellness vendors; local vendors supporting women in transition between jobs or careers; styling and interviewing help from local experts in hair, fashion and recruiting; free games for children; and giveaways. 11 a.m.-3 p.m. Saturday, Aug. 10, Monument Square, Main and Sixth streets. Free.
BEND AND BREW: Free outdoor yoga on the Sam Johnson Parkway, led by Yoga Roots Racine for all ages and skill levels. Some mats will be available but patrons are encouraged to bring their own. 9-10 a.m. Saturdays through Aug. 31. Free (donations accepted). Arrive 5-10 minutes early for sign-in. Participants receive a certificate to use towards a free coffee or beer at participating businesses. Event will be canceled in the event of inclement weather (check DRC Facebook page).
ZUMBA FITNESS CLASSES: The Racine Parks, Recreation and Cultural Services Department offers sessions of Zumba Fitness at Racine's five community centers. These ongoing classes, created by Colombian dancer/choreographer Alberto Perez, incorporates hip hop, soca, samba, salsa, merengue and mambo dance to create an aerobic workout. Participants of all levels of fitness and dance experience are welcome. The schedule:
Tuesdays and Thursdays — Dr. John Bryant Community Center, 601 21st St., 3:30-4:30 p.m., 262-636-9235. Zumba Gold for seniors. A $3 donation per class is requested.
Wednesdays — Humble Park Community Center, 2200 Blaine Ave., 10-11:30 a.m., 262-636-9226. A $3 donation per class is requested.
Saturdays — Dr. Martin Luther King Center, 1134 Martin Luther King Drive, 10-11 a.m., 262-636-9237. A $1 donation is requested.